Are you being poisoned without knowing? Is your endocrine/immune system down because of dangerous chemicals? What you don't know can hurt you! Your thyroid and toxicity. 
by Svetla Bankova

In my youth, I have to admit, I used many cosmetic products, in order to look pretty (and who didn't?) Every day I fed my skin with dozens of cosmetic products, as probably you do that too- shampoos, face creams, tonics, makeup, lipstick, conditioners, you name it. I also believed that if these products are sold on the in the stores, someone took the time to check them, had tested them and approved to be safe. Not so folks! FDA (in the USA for example) may not really have your best interest in mind, but I won't talk about why here. According to the Campaign for Safe Cosmetics the European Union currently bans over 1,300 chemicals from its cosmetics. In contrast, the U.S. Food and Drug Administration has banned or restricted only 11. In the U.S., major discrepancies in federal law allow the cosmetics industry to put thousands of synthetic chemicals into personal care products that are not tested for safety, even if those chemicals are connected to cancer, disruption of the immune and endocrine system, reproduction or birth defects. If you don't believe me, read for example Toxin Toxout by Bruce Lourie and Rick Smith. I was merely shocked.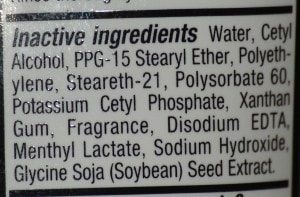 Here are just a few of the "most" popular ingredients, often found in cosmetics: 1. Sodium lauryl (ether) sulfate (SLS, SLES) is a former industrial degreaser now used to make soap foamy, it's absorbed into the body and irritates skin (skin rashes anyone?). 2. Toluene: well-known to disrupt the immune and endocrine system, and fetal development, it's used in nail and hair products (hair falling, by any chance? Itchy scalp??). 3. Triclosan: used in antibacterial products, hand sanitizers, and deodorants, it is linked to cancer and thyroid system disruption. 4. Phthalates: Plasticizers banned in the EU in children's toys, but present in many fragrances, deodorants, and lotions- linked to endocrine disorders, liver damage and cancer.5. Parabens:  used as preservatives, but linked to cancer, thyroid disruption, and reproductive toxicity. 6. Paraphenylenediamine (PPD): used in hair products and dyes, but toxic to skin and immune system. These and many other products I call the "silent killers" of our bodies. 
The list above is neither complete or exhaustive. But you get the idea, right?
The older I got, the more I read, the more convinced and scared I became. as I found that cosmetic industry uses thousands of synthetic chemicals in its products, with ingredients that are also used in industrial manufacturing processes to clean industrial equipment, stabilize pesticides and grease gears, deadly dangerous to us. Can we all agree that a substance that effectively cleans your garage floor may not be the best choice to put on your face? And do you know that your conditioner is actually a perfumed fabric softener? Things you don't know can hurt you and sometimes kill you, and I am not trying to scare you but to offer you solutions that may help the recovery of your immune system and your health. Every little thing matters and counts, when comes to your health.
So, how all this may affect you?
And as we well know Graves' disease and Hashimoto's disease are actually not thyroid disorders; they are disorders of the auto-immune system that target the thyroid. Once compromised, confused and disrupted the poor immune system, instead of fighting viruses, starts wrongly targeting different organs in our bodies: the kidneys, the liver, and in our case the thyroid gland. You may think that what you eat and drink is all that counts, but no…what you put on your body and face counts even more, since the skin is the largest organ of the body, able to absorb quickly everything we put on it! So, let's be careful what we use.
Solutions. Managing toxicity and inflammation….
The best solution is not to pollute ourselves in the first place; for example, by replacing dangerous substances with safer ones. Second, read the labels, take that time, it's worthy. If you find ingredients that are not familiar to you or sound more like Mendeleev's chemical table, please do not buy. It's not worth your health! 
Third: Try to use natural products, to the best you can. I am not saying you should go broke by buying only organic products (which you could if money is not an issue!). But sometimes there is a simple solution that doesn't cost so much money or too many efforts. And your body will love it. 
What did I do to resolve the chemical poisoning problem? 
I love experimenting and even making my own cosmetic products (my last experiment was with aromatherapy oils, which continues). But this "natural making products" happen to be time-consuming, expensive (you buy larger quantities of ingredients that you need) and sometimes not so successful. It takes time and money to get all the ingredients, to find recipes, to try and see if they are working. I decided to save myself this trouble…but still, use natural products. And then, as the Universe likes to conspire on your behalf when you have the right intentions, I met a woman that makes that all for me, with love, as she says.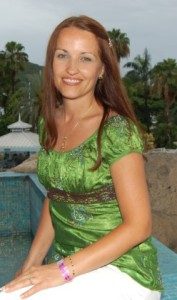 Her name is Teodora Sheriff, mother of three boys, who is devoted to making you beautiful and more healthy at a very affordable price (the natural deodorant she makes with her own hands costs $8, compared to $6.00 and up store chemical deodorant, for example). Initially, she started to "cook" different cosmetics products for herself and her family only, but then she realized that other people are also in need of these natural products, but they may not have the time, resources or energy so she decided to make it more global. This is what she says:
"I believe that everything we need to enjoy a healthy and happy life is given to us by Mother Nature. We just need to look around and remember. Why use synthetic ingredients in our skin care products when there is a great variety of natural oils and jars of butter. An abundance of oils and jars of butter of any kind of plant, fruit, vegetable, spice, etc. are readily available. 
I handcraft all my soaps and lotions with love and joy. I am having so much fun and knowing that my creations are revitalizing for you brings a smile on my face."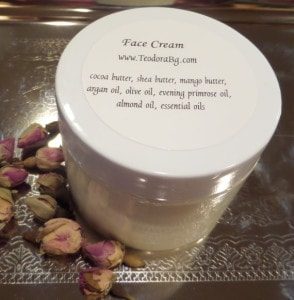 Her products contain only a few ingredients, all natural, no preservatives and synthetic/artificial colors, freshly "cooked" upon request. She uses only 100% natural essential oils, dried herbs, and flowers, as she explains. And she can even make you a custom order with your favorite ingredients!
I personally have used her natural deodorant, the body butter (I had to restrain myself not to eat it), body scrub and soap, and so far I am very happy with the results- my skin feels soft, smells great and I know that no chemicals were applied to my skin (which by itself feels great as well!). The link to her products is below, indulge yourself! Your body and your face will love these products and will be thankful for not being poisoned and taking such a good care of it!
 Teodora's Skin Care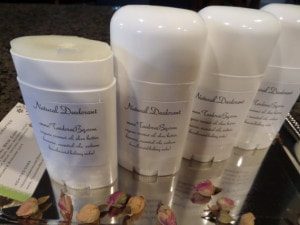 Disclaimer 1: Just like with all beauty products test for sensitivity! Even these are all natural products and some of the ingredients are purely organic, make sure you are not allergic to any of the substances used. If in any doubt, test first on a small spot and check in 24 hours.  Enjoy!
Disclaimer 2: I have no financial or other interest of recommending these products, whatsoever.