Herbal treatment for hyperthyroidism. The 3 most  important herbs.
by Svetla Bankova

People for centuries are looking for herbs to help their ailments. When the traditional medicine can not help, or causes more harm than cure, then people turn back to the ancient herbal treatment. There are in fact many herbs, that can positively influence hyperthyroidism and Graves' Disease but there are 3 that are "must have" in your herbal kitchen and use them regularly, instead of all the sodas and artificial juices sold in the stores.
Herbal Treatment for Hyperthyroidism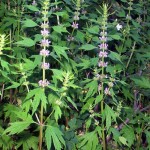 – it is a member of the mint family. You can find this plant pretty much everywhere on the planet, in all continents. It can be also cultivated in your garden. Motherwort balances the hormones generally and helps palpitations; it strengthens the heart beat without increasing the pulse.
Motherwort helps bring on a delayed or suppressed menstrual flow, especially when someone is anxious and tense, it's also used to improve fertility and anxiety, it helps also the hot flashes in menopause. You can use it as a tea, or a tincture, or even make your own.
It reduces blood pressure. Do not use if you are pregnant. Bitter taste. It also has sedative and antispasmodic properties.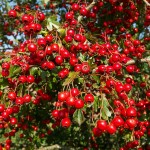 Hawthorn (Crataegus species) has been used to treat heart disease as far back as the 1st century. By the early 1800s, American doctors were using it to treat circulatory disorders and respiratory illnesses. It's a thorny three, which gives red berries in late summer, early fall. It contains compounds that support the heart and circulatory system.
It's found to be beneficial for heart muscle weakness, for pressure, tightness in the chest and for mild arrhythmia. In some scientific researches it's found that hawthorn interact with key enzymes in the heart to increase pumping force of the heart muscle and it also works to dilate the blood vessels. Hawthorn also helps painful joints and stabilizes the collagen in the bone itself. It also helps bloods shot eyes, glaucoma, swollen ankles and varicose veins. It can be used as a substitute of a beta- blocker, but make sure you consult your doctor before that.
It's available in capsules, tablets and tinctures, but my favorite is Hawthorn tea, some of the capsules include not only the berries, but also leaves and flowers.
To make a tea from these berries, you generally use a teaspoon per cup. Let it brew for a few minutes before drinking.
Lemon Balm (Melissa officinalis) (The officinalis stands for "officially recognized as a medicinal herb").
This is one of my favorite herbal treatments for hyperthyroidism and I already have written about it a lot. It's an "easy herb", you can grow it in a pot on your window, or in your garden. Lemon balm has been used for centuries to relieve anxiety and sleeplessness; it has mild sedative effect, relieves menstrual cramps, fights cold sores, relaxes nerves, and eases indigestion. Combined with Valerian roots it's often used for insomnia treatment. It also helps hot flashes associated with menopause.
The flavonoids and polyphenolics found in the Lemon balm have been identified as inhibiting the excessive thyroid stimulating hormone (TSH).  The TSH is blocked for further stimulating the excessively active thyroid gland. Generally it helps the action of the anti-thyroid drug, and acts like one in mild cases. I've been using that herb as "sleep helping tea" for many years and I also know that it's gentle on children and even babies.
I would not suggest combining and drinking these herbs altogether for "faster results". I would suggest  trying them on for a few days, i.e drink Hawthorn tea for a few days (only), Lemon Balm tea after that, Motherwort for the next 3 and see how you feel. We are all different as people, we feel differently. Try it cold, hot, as an infusion, or you can even steep it overnight. 
Happy "tea"ing! Happy drinking!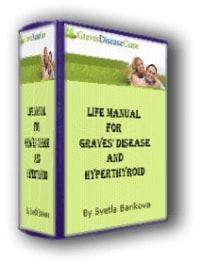 If you want to get more herbal recipes and learn more about natural cures, check out my first book:"Life Manual for Graves' Disease and Hyperthyroidism".