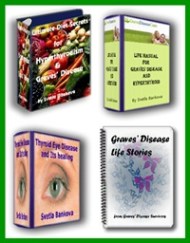 Your Graves' Disease and Hyperthyroidism" Ebooks + All your Bonuses are just a hand away!
Thank you for order. Also, please remember that you'll see on your credit card or bank statement a charge from PayPal.
In order to receive your download link for the ebook and all your bonuses, please, enter your name and email below FIRST! You'll be taken to a screen/a webpage where you can immediately download your ebooks and also you'll receive an email with that same download link. Don't forget to check your junk folder, as it may go there! Enjoy your ebooks and as always, if you have any questions, just let me know!